Silverchain launches GP Education Series
21 September 2023
Silverchain is hosting a series of free interactive and practical education sessions for General Practitioners, practice managers and specialists to discuss ways to provide effective integrated care and improve the quality of patient outcomes.

The Silverchain GP Education Series kicks off with its first session on 18 October that will focus on management of chronic and complex diseases.

Each event for the Silverchain GP Education Series will feature presentations from industry and Silverchain health care experts to help GPs, clinic-related staff and specialists to build their expertise across a range of health topics. Presentations for each event will be followed by a panel discussion.

Silverchain Medical Director Dr Sayanta Jana said the series was designed to provide attendees the opportunity to learn more about integrated care such as the chronic disease and mental illness co-existence dilemma, which would be the topic of the first session.

He said the series would also provide insights on the services available for referral and the best referrer pathways.

"These sessions are designed around the multi-faceted needs of our major referrers, our external GP networks, who play a major part in the health system to support our Silverchain clients in primary care, community care and home care environments," Dr Jana said.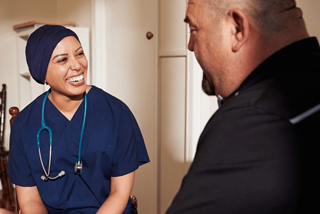 This is an acknowledgement of the pivotal role played by primary care GPs and Silverchain in hospital avoidance and safely managing patients in the community.
The topic of the first free session on 18 October, will be "When Chronic Disease and Mental Illness Coexist", with the panel consisting of:
Dr Stefan Schutte, Head of Psychiatry, St John of God Midland Public and Private Hospitals
Dr Michael Christmass, Consultant Addiction Medicine, Fiona Stand Hospital and Next Step Drug and Alcohol Services
Jaclyn Geraghty, Program Manager, Primary Care and Chronic Disease at Silverchain.
Dr Schutte will discuss understanding the impact of mental illness on chronic disease in goal setting, motivation and successful self-care. He will provide details on why patients with chronic disease are at risk of poor self-care, and the guiding principles for helping them achieve their health goals.

Dr Christmass will discuss determining the impact of substance use on chronic disease and evidence-based community management of alcohol and other drug rehabilitation. He will delve into the appropriate management plans and referral pathways for patients seeking to withdraw from alcohol or other drugs with community support.

Ms Geraghty will discuss using the Flinders models of care in supporting patients with chronic disease. She will detail the key features of this model to help identify patients who might benefit from its application and suitability for community supported programs.

The event will be held at the Joondalup Resort in Connolly, WA starting at 6.15pm and will include a two-course dinner and refreshments. Register by October 6 October by visiting silverchain.org.au/gp-education-series or email ReferrerEngagement@silverchain.org.au