The carers we work with at Silver Chain tell us that the physical and emotional demands of caring for a loved one can be high.
Many carers carry the weight of caring in silence, experiencing social isolation, fatigue and financial hardship. There is nearly an unwritten rule that we are just supposed to get on with it and not discuss the pressures associated with caring. But with you, we can help change this and the lives of thousands of Western Australians.
For people like Denise, caring for a loved one has been rewarding, however, over time it has taken a toll on her and her family's emotional and mental health.
It shouldn't be this way.
One in three carers never take time out from their caring responsibilities, with only around half having enough time to keep on top of other responsibilities.
Caring for someone is a big responsibility with a lot of hidden challenges and stress. Without the right supports, the price paid for caring is depleted energy and exhaustion. Understandably, this can eventually lead to the difficult decision to put a loved one in care.
With a donation you can help people like Denise take a much-needed break while their loved one is compassionately looked after at our Rockingham Social Centre and Respite Cottage.
Whether our clients need support for a few hours, overnight, or a few weeks – our team can provide services to help carers take a break and recharge, knowing their loved one is safe and in good hands.
Silver Chain believes every Australian should be able to live their lives, their way, with dignity and choice. By donating today and encouraging carers to take the time they deserve, and need, for themselves you can help us double the number of people that we provide with respite services, and support Australians in living their lives, their way for as long as they want.
For Denise, it was an easy decision to have her mother, Noreen, who is living with dementia, move in with her family. It made sense. Denise could easily help Noreen in the comfort and safety of her home. Seeing the improvements in her mother's health reinforced the choice they made to support Noreen's wellbeing.
A decision that was not so easy for Denise was when she decided it was time to look for support in caring for her mum Noreen. Denise was at a breaking point. She had reached a point of extreme fatigue and exhaustion.
Denise had cared for her mum in her family home, unassisted, for more than a year and it wasn't until she took a break that she realised the toll that full time caring for a loved one with dementia had on her health and relationships.
"When you step away from the daily stresses, you see how dysfunctional everything has become and how worn out and exhausted you are. It is like the lights are on, but nobody is home," said Denise.
"Looking after mum day in and day out is certainly not a job for the faint-hearted and it led me to look into Silver Chain's respite and carer support services" said Denise.
"As soon as I walked through the doors at the Rockingham Respite Cottage, I had this overwhelming sense that this was the right place for mum. The staff were so welcoming and friendly; they were cooking a stew with dumplings and it smelt amazing. Everything was so homely."
Over four weeks, Noreen was cared for at the Rockingham Respite Cottage allowing both mother and daughter to rest. Denise has felt at ease knowing she is in a safe and caring environment and that she is able to recharge in order to keep caring for her mum.
"Respite was the best place for both mum and I. Carers' stress is something I had heard of, but I didn't really understand the impact it was going to have on my life until now," said Denise.
"I love what respite has done for my family. Mum is participating in activities and socialising with others and I have the chance to finally take a break, recharge and spend time with other members of my family."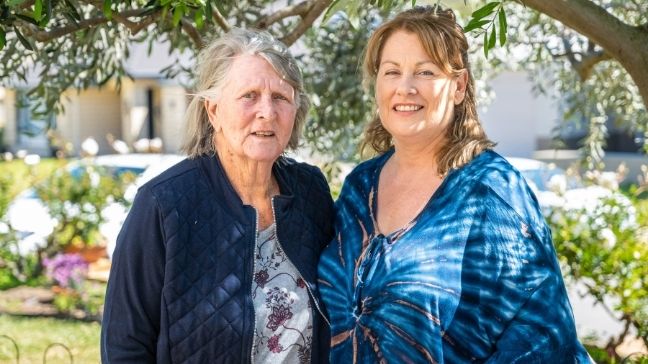 Can you help keep someone like Denise to be at her best?
Our respite services provide carers with a break to give them an opportunity to look after their own health and wellbeing, while our trained team provides clients with professional care.
From two days to up to two weeks, the Rockingham Social Centre and Respite Cottage offers accommodation and activities, so carers can take a short break while their loved one is professionally and compassionately looked after.
Your support won't just be helping us to provide respite in Rockingham, but across our 13 metro and regional social centres that offer daytime respite. Just like our Respite Cottage these include a range of activities that benefit our clients, and their carer's appreciate the opportunity to tend to their own lives briefly. Everyone gets a boost from respite.
Too often a carer feels that they need to do everything on their own and that it is their duty as the husband, wife, daughter, son, friend or loved one. This isn't the case. We know that there are people like Denise who want to help but need support.
We want to give back to the many West Australians caring for a loved one. We want to give them a reason to smile and a reason to take a much-deserved break, but we need you. Your donation can help us take care of their loved one, whilst they take care of themselves.
We believe in the power of home. We know that people want to stay in the safety and comfort of home for as long as they can. Small respite visits, allowing benefits to the client and the carer, can really make the difference in supporting carers to cope and carry on. You can help us improve access to respite support for carers so they can continue to provide an ongoing caring role for their loved one, in their own home.
It's overwhelming to care for someone on a full-time basis, and even the strongest of people need support every now and then. This is where you, and our respite service can help.
With your support, more West Australians will have the opportunity to look after their own health and wellbeing and social life, whilst we take care of their loved ones.
More than 1000 people are currently benefiting from our respite services, but there are still so many people out there that are exhausted and need help. We want to double the number of respite clients and carers in our services because we know it makes the world of difference, a difference that you can make happen.
If you'd like to support us, donate here or find out about other ways you can get involved.
Please consider supporting us with a donation today, to help give a carer a much-needed break. You can make the difference in the life of a carer that can't see an end to the stress and exhaustion of caring for a loved one, where the lights are still on, but no one is home.