Falls are a leading cause of hospitalisation for older Australians, with 1 in 3 experiencing a fall in the past 12 months. The number of falls is increasing every year with serious consequences, including debilitating injuries and even fatalities.
For many Australians, having a fall can prevent them from staying in their own home, as the physical and psychological consequences affect their ability to live safely and independently.
But it doesn't have to be this way.
Together, we can reduce the frequency and severity of falls, and in some cases prevent them altogether. Help us to partner with expert researchers to bring evidence-based falls prevention strategies into the daily routines of older Australians.
Falls contribute to over a quarter of all injury hospitalisations in WA, with falls-related deaths occurring almost daily. You can help keep people on their feet and reduce the likeliness of a significant fall.
At Silver Chain, we've seen that having a fall is one of the most common deciding factors in leaving the comfort of home for residential care. In 2018, 1,679 Western Australians who were hospitalised after a fall never returned home, instead they were discharged to a residential aged care facility.
But living in your own home doesn't make falls inevitable if you take the right precautions.
These include reducing risk factors such as poor lighting and trip hazards, and increasing mobility, balance and exercise. As expert in-home health and aged care providers, we are ideally positioned to have a positive impact on reducing the number of falls in Australia and beyond. One of the many things we wish to do is educate existing clinicians and staff on how to implement new falls prevention knowledge, ensuring every advance is reaching our clients.
Partnering with other experts, both Australian and worldwide, we will bring both the latest and highest quality research into our falls prevention program. 27,327 Western Australians were hospitalised with falls in 2018, imagine the impact that new research could have when implemented across Silver Chain's 100,000+ clients.
Your donation will help optimise, innovate and discover ways to prevent and reduce falls for at-risk Australians in our community. You can give people the tools and confidence they need to live safely at home after a fall.
Despite seeing a private physiotherapist for over a year and following her exercise regime diligently, Claudia showed little progress and her mental wellbeing was at a low. Discouraged, she contacted Silver Chain.
"When I first met Claudia, she felt she was regressing. She feared having another fall and becoming permanently housebound." – Nevin, Silver Chain physiotherapist.
Claudia started our in-home physiotherapy service, which began with a falls risk assessment using a specialised screening tool and a discussion of her personal fall risks and goals. Using this, Nevin developed a personalised exercise programme specifically tailored to Claudia's needs.
Within eight days of starting Nevin's program, Claudia began to see improvement. First, she was able to bend to her lower kitchen cupboards. Then she was able to walk to the street corner. After 12 weeks, she regained her confidence, resumed her active social life and is now able to complete household tasks independently.
Claudia looks back in wonder at how much she has improved since her first appointment and is grateful for Nevin's expertise and guidance – it truly changed her life for the better.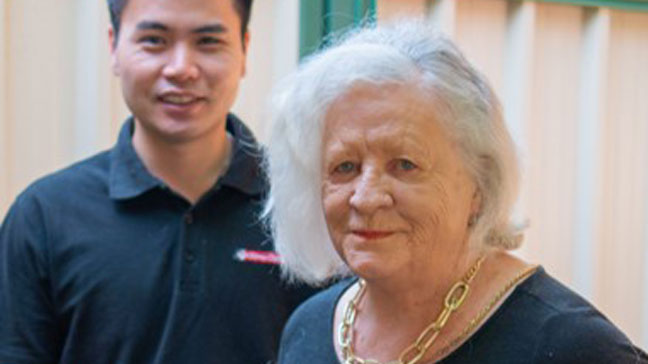 To demonstrate our commitment to empowering Australians to have autonomy over their lives, we are investing in world-class staff to lead us in introducing client-focused falls management. At the helm is Dr Anna Barker, Executive Director, Research and Innovation.
An example of her research is close to home leading a 2019 trial in partnership with the Royal Perth Hospital, titled RESPOND, aiming to prevent a second fall in older people after they were recovered and discharged from hospital. This study championed the need to respond to causes of the first fall to prevent the second and strengthening the connection between emergency department care and community care.
Dr Barker's focus has been on reducing the consequences that falls have on the ageing. Fractured bones, loss of confidence and independence, admission to hospital or residential aged care. These outcomes can then cause an older person to be less mobile resulting in social isolation, which can trigger a further cascade of physical and psychological health issues.
"Falls should not be considered an inevitable consequence of ageing. This appeal is an opportunity to increase older people's access to and participation with falls prevention activities so that falls and their burden can be reduced."
Donating to Silver Chain in support of research is your opportunity to invest in future ground-breaking falls prevention strategies.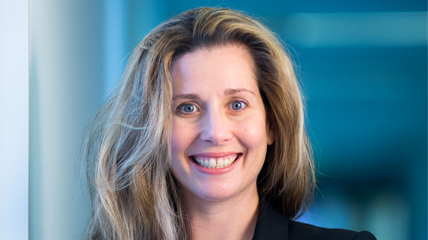 How can you help?
With your gift, we will create practical programs based on expert research and learnings that will extend throughout our services. This will create a number of funded activities that will aim to tackle falls prevention from multiple angles.
The approach will be three-fold:
Optimise our existing programs to improve the way we support our clients in the community to combat falls
Innovate new ways of preventing falls, and if they do occur, lessen their impact and injury rate. To do this we will produce new and engaging technologies which are new to falls prevention
Discover new ways to introduce trial programs to older Australians. To truly make a lasting difference, programs must be developed in partnership with clients to ensure they are practical and robust.
If you'd like to support us, see how you can donate or other ways you can get involved.
You can help us convert years of academic research into real world programs by donating today. Please help us reduce the number of falls happening every day and empower our clients to choose to continue living at home.