Requests for information
We respect your privacy and are committed to protecting it. Under the Privacy Act and Australian Privacy Principles, you may request access to your personal information held by us.Find out about our care options today.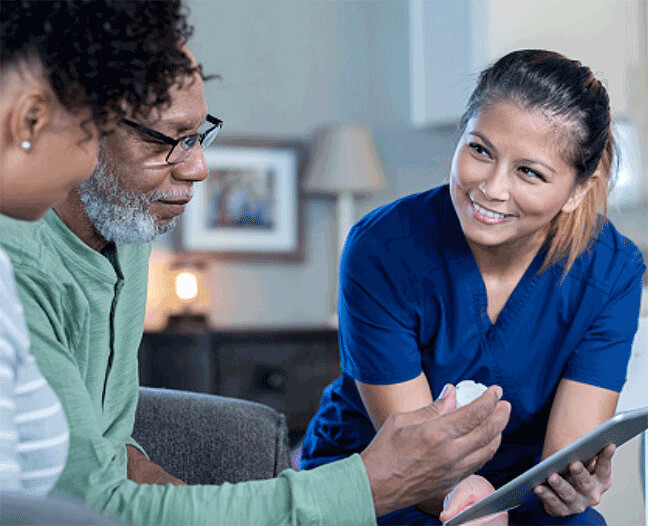 ---
Privacy Collection Statement
This Privacy Collection Statement applies to the collection of personal information from clients of Silver Chain Group Limited and its related bodies corporate (as that term is defined in the Corporations Act 2001 (Cth).
---
YOUR PRIVACY AND PERSONAL INFORMATION
When you start accessing care or support services, you are asked to provide personal details. We are committed to protecting your privacy and will keep your personal information confidential and secure.
Privacy Collection Statement
This privacy collection statement outlines our approach to handling your personal information. It also sets out your rights to seek access to and correction of your personal information and your rights to complain if you think your privacy has been breached.
By agreeing to receive services from Silverchain, you consent to this Privacy Collection Statement.
PRIVACY POLICY
Our privacy policy contains greater detail on how we handle your personal information, including how you can get a copy of and correct your personal information, and our complaints handling procedures. You can also ask your care provider to give you copies.
---
Why We Collect Your Personal Information
We need to collect and store your personal information, including your health information, in order to help you receive the right care and services for your needs, managing our business (including for quality assurance, practice accreditation and record keeping purposes), handling complaints and incidents, providing you with information about our products and services that may be of interest to you, and for accounts and billing purposes.
If you choose not to provide us with some or all of the information we request, we may not be able to provide you with some or all of the care and services you need.
---
How Your Personal Information Is Collected and Stored
Silverchain may collect personal information in a number of ways. Where possible, Silverchain collects personal information directly from you.
Personal information is collected by us through various means, including by telephone, in face-to face meetings, from forms and questionnaires and online through portals, emails and our website.
In some situations, we may also obtain personal information about you from others, such as family members or friends and others who are legally permitted to disclose it to us. In these circumstances, we will take reasonable steps to ensure that you are aware of the purpose for which the information was obtained and how the information will or may be disclosed. For example, we may collect information from your doctor or attorney or from another person who you have given us the authority to contact. Other care providers may also share your personal information with us when they refer you to us for services.
A record of your care will be kept at your home and this will be made available to care providers that visit your home. This record remains our property.
---
Who We May Share Your Personal Information With
Sometimes we may need to share your personal information with other organisations, including:
other care providers, including doctors and other health care professionals
emergency services
health or aged care assessment bodies
government and other regulatory bodies
advisors such as lawyers, auditors and credit agencies
outsourced service providers, such as data storage providers, who may store your personal information outside Australia. If we do this, we will take reasonable care to ensure that the overseas storer holds your personal information securely and complies with Australian privacy law.
We will never share or sell your personal information for profit or commercial use.
---
Research
Our commitment to research means that we regularly trial new models of care and evaluate services. To do this we use de-identified client and service information. We may also invite you to participate in surveys about your satisfaction with our services and studies that examine care outcomes. This will help us to ensure our services are of the highest quality.
---
Privacy Questions and Complaints
We have a privacy officer who can answer any questions that you have about how we collect, use and store your personal information. You can contact the privacy officer if:
you have any questions about how we manage your personal information
you want to see any of your personal information that we hold
you believe your personal information has been recorded incorrectly; or
you have any complaints about how we manage your personal information.
We take privacy breaches very seriously.
If you have any questions or concerns about how your information is managed, please contact us:
P: (08) 9242 0242
E: privacy@silverchain.org.au
The Privacy Officer
Silverchain
Sundercombe Street
Osborne Park WA 6017
Alternatively, you can contact one of the following external bodies for support and guidance:
Aged Care Complaints Commissioner
P: 1800 550 552
W: myagedcare.gov.au
Aged Care Complaints Commissioner
GPO Box 9848
(Your capital city and State or Territory)
The Office of Australian Information Commissioner